August Gardening Tips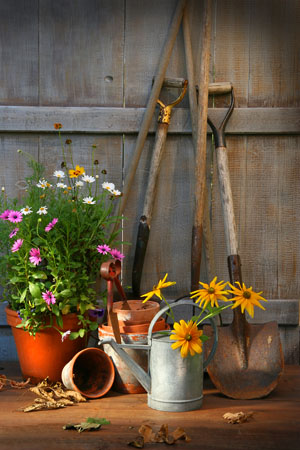 What can I plant now?
Bedding Plants: Vinca, gaillardia, bulbine, and coleus are annuals that can be planted in the hot summer months. Monitor bedded plants to ensure they have enough water with the hot temperatures. Water whenever necessary to maintain enough moisture. To learn more about planting annuals, click Here.
Herbs: Bay laurel, ginger, Mexican tarragon, and rosemary can be planted in August from plants, but not from seeds. Click Here to learn more.
Bulbs: Aztec lily, butterfly lily, walking iris, and spider lily can be planted during the hot Summer months. Click Here to learn more about planting bulbs.

Vegetables:Lima beans, cucumbers, eggplant, and peppers can also be planted in August. Click Here to learn more about planting vegetables.
What maintenance is required this month?
Annuals & Perennials: Now is a great time to trim back, fertilize, and remove dead blooms on flowering annuals & perennials to encourage a longer flowering season. http://edis.ifas.ufl.edu/topic_annual_landscape_plants and http://edis.ifas.ufl.edu/topic_perennials for more information.
Trees: Inspect trees for dead or weak limbs to prepare for hurricane season. If trees need to be removed or trimmed, hire a ISA-certified arborist. http://www.isa-arbor.com/
Pests: Be in the lookout for thrips, scales, and mites on ornamental plants. They tend to be more active as the temperatures rise. Click Here to learn more.
Lawns: St. Augustine grass can be susceptible to hinch bugs, disease, or lack of water which often lead to yellow or brown patches. Click Here to learn more about protecting and treating your grass from bugs.
Palms & Cycads: Watch palms and cycads to ensure they are healthy. Look for yellowing palm fronds because that might be a sign of a magnesium or potassium deficiency. Click Here to learn more about nutrient deficiencies in palms & cycads.
Azaleas: Azaleas should be pruned no later than mid-July to prevent affecting the buds for next Spring. Click Here to learn more about caring for azaleas.
Irrigation: Check irrigation systems for any mal-functions or sprayers that are not aligned correctely. A shutoff device can also be purchased to conserve water from irrigation systems when watering is not necessary. Click Here to learn more.

Always good to...
Trim St. Augustine grass at 3-4" high
Deadhead flowers to promote growth
Check your irrigation system to ensure plants receive enough water
For more information on lawn tips, please visit http://solutionsforyourlife.ufl.edu/lawn_and_garden/